[Version auto] KT200 ECU Programmeur Version Auto prend en charge le calcul du Checksum, Mettez à niveau vers la version complète et ajoutez un poste de travail hors ligne, puis vous pouvez travailler hors ligne.
KT200 ECU Programmeur Auto Version :
1. Software version 2023
2. Logiciel
:
KT200 Auto version inclus 7 licenses:
Car OBD, Truck OBD, Full System, BDM/JTAG, TOOL BOOT, Bench Mode, TCU Gear
Full version
: Car OBD, Truck OBD, Tractor OBD, Boat OBD, Motorbike OBD, Full System, BDM/JTAG , TOOL BOOT, Bench Mode, TCU Gear
Pour La mise à niveau de la version Auto vers Complete, veuillez nous Fournir le numéro de serie et commandez la mise à niveau :
| | | |
| --- | --- | --- |
| | Auto Version | Full Version |
| Car OBD | √ | √ |
| Truck OBD | √ | √ |
| Tractor OBD | × | √ |
| Boat OBD | × | √ |
| Motorbike OBD | × | √ |
| Full System | √ | √ |
| BDM/JTAG | √ | √ |
| TOOL BOOT | √ | √ |
| Bench Mode | √ | √ |
| TCU Gear | √ | √ |
3. Supports Checksum Calculation
4. Full read and write TCU (Micro+EEPROM)
TCU Clone
TCU Coding
Couvre plus de 5400 Calculateurs, plus de 500 TCU.
Prend en charge une grande quantité de TCUs, i.e Volvo MPS6, VAG DQ400e/SQ100, Jeep 9H28 TCUs
5. Obtenez des fichiers VR gratuits et des fichiers Damos à partir de
ECUHelp V3.0
6. Multi-language:
Italian, English, Dutch, French, Spanish, Polish, Portuguese, Czech, Romanian, Turkish
7. Mise à jour gratuite sans frais annuels (si vous souhaitez ajouter de nouveaux modules à l'avenir, vous devez payer pour de nouveaux modules)
8. Supporte
Simos PCR2.1 unlock par OBD CAN
.
9. fSauvegarde complete des calculateurs
edc15 (flash+eeprom) par pinout
. Sans ouvrir le calculateur
10. 1-year warranty period, after-sales service guarantee
(>>Online Technical Support)
Free Download
Free Download KT200 02/01/2023 Software Online
Free Download KT200 02/01/2023 Software Offline
Free Download KT200 22.12.10 Software
KT200 ECU Programmer Support ECU List
KT200 ECU Programmer Support TCU List
KT200 wiring diagram
Operating system:
Windows 7
Windows 8/8.1
Windows 10
Windows 11
Minimum Recommended Requirements:
CPU > 2.5 GHz (Intel i5, i7)
RAM > 8GB
NOTE:
1. Must connect software online to access our server, no lock issue.
Ecuhelp KT200 2023 software update(02/01/2023 ):
1. Fixed the bug that the software functions were not synchronize.
2. Optimized server connection time, high speed and convenience.
3. Fixed the problem that some models are prone to error messages when reading and writing in bench mode.For example, EDC17 series.
4. Optimized tool checksum issues (except EDC17 series)
5. Optimized the full system function in the software function.
6. Shortened the read and write process time, more quickly.
7. Fixed the TCU response speed, some models are prone to errors in the reading and writing process.
KT200 2022.12.10 new update:
NEW AUTOMATIC FUNCTION: TRICORE CLONE
Added automatism to clone the following control units with OTP zone adaptation and password:
– BRP Can-Am ME17.8.5
– BMW MED17.2
– BMW MEV17.2
– MINI MED17.2
– MINI MEV17.2
– MERCEDES BENZ EDC17 CP01
– OPEL EDC17 C84
– OPEL EDC17 C42
Comment installer le logiciel KT200 V12.10?
Étape 1: Téléchargez le service kt200 et le paquet d'installation, décompressez les paquets et terminez l'installation.
Étape 2: Connectez le périphérique, ouvrez le « Gestionnaire de périphériques » sur votre ordinateur et installez manuellement le pilote de périphérique. Une fois terminé, ouvrez le service kt200
Étape 3. Cliquez sur « télécharger le logiciel » dans le service kt200 pour installer le logiciel de travail KT200, il mettra automatiquement à jour la dernière version et attendra l'installation.
Étape 4. Cliquez sur le « schéma de câblage » pour télécharger (il contient toute l'image de câblage prise en charge par l'appareil), et il téléchargera automatiquement et terminera l'installation.
Étape 5. Une fois le téléchargement du logiciel terminé, vous pouvez ouvrir le logiciel normalement. Et après avoir téléchargé le schéma de câblage, vous pouvez faire le travail de l'ECU normalement.
Étape 6. Lorsque le logiciel ne peut pas être ouvert, vous pouvez d'abord cliquer sur le bouton « Diagnostic » dans le logiciel de service KT200 pour la détection.
KT200 Auto version Function:
1. Covering a full range of German, ECU Programmer Japanese, American and Chinese models
2. EGR & DPF Removal, IMMO OFF, releasing speed limit , mileage correction, Hot start or Cold Start Vmax, and so on.
3. The list of vehicles is constantly updated, which keeps you at the forefront of the industry.
4. Support Volkswagen Audi clone (local operation without sending data to manufacturers)
5. ECU maintenance, Chip tuning, DTC code Removal, professional reading and writing equipment covering 99% of the models in the market.
Master: Read and write ECU data, read it in BIN unencrypted format, you can modify the data arbitrarily, you can clone ECU and use it as ECU service, the master is a personal version, you can only use it yourself, cannot unlock data for the slave.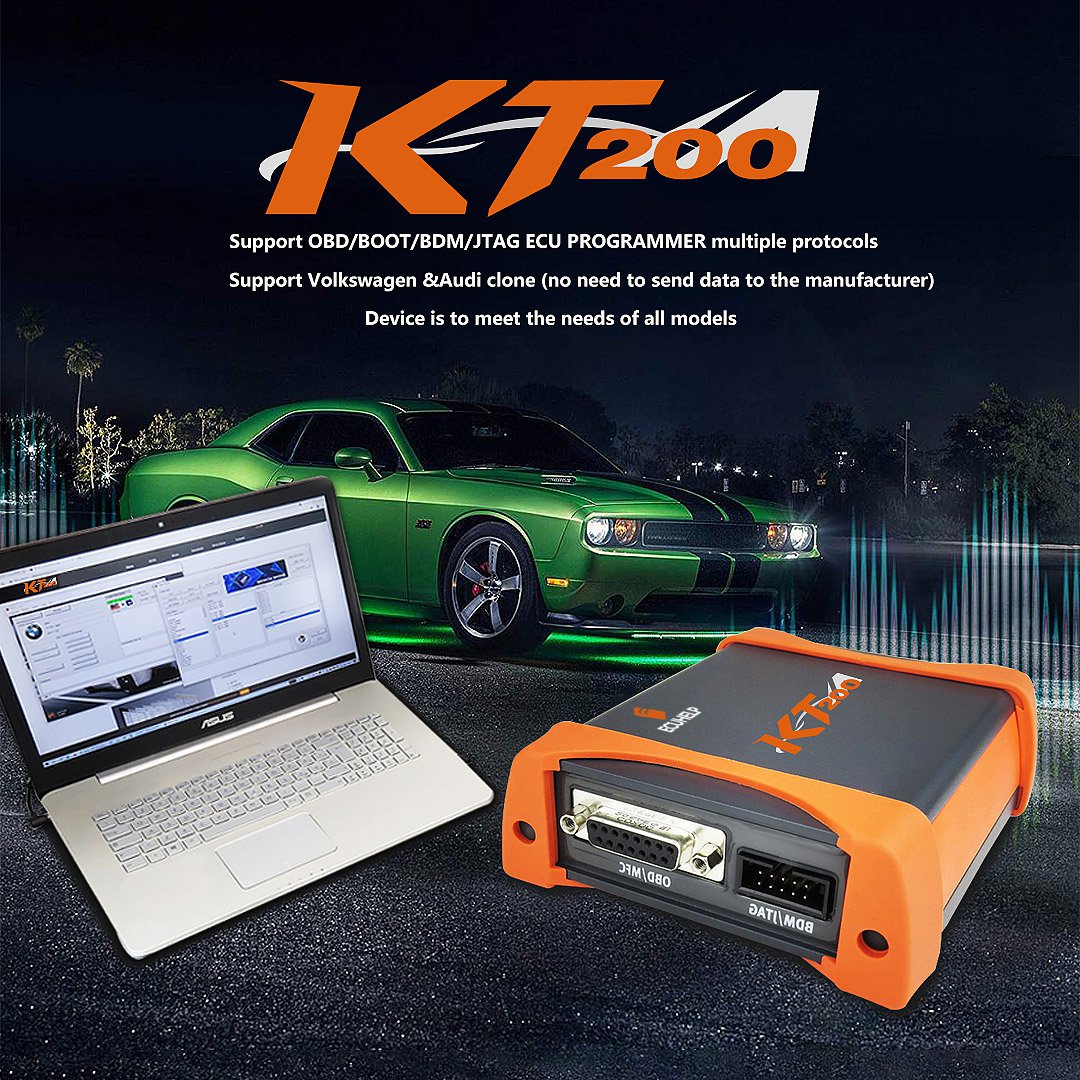 KT200 Basic Version Software Display: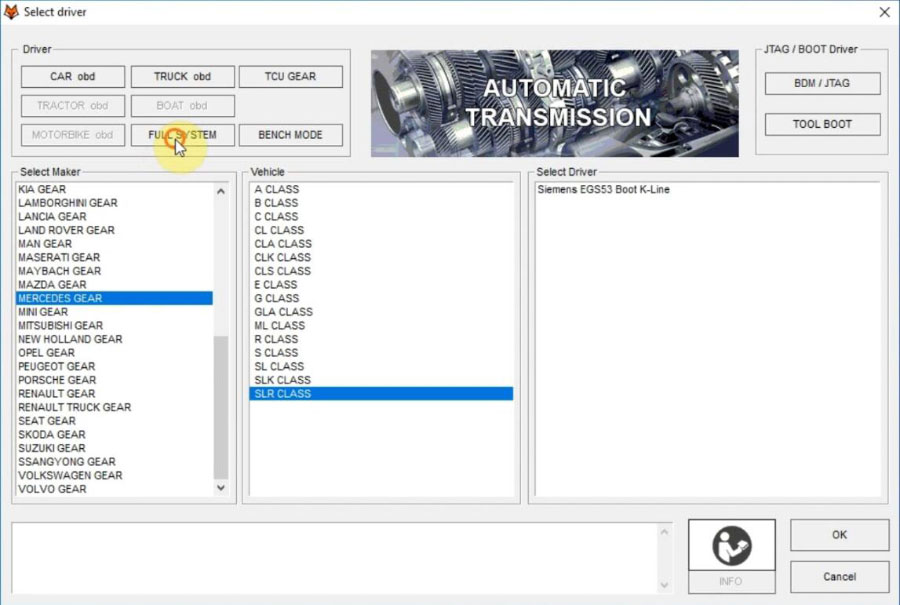 Full Read And Write Via Pin Out in Bench Mode:
BOSCH EDC7
BOSCH EDC16
BOSCH ME9 / MED9
BOSCH MD1
BOSCH MG1
-FREESCALESPC5777
-AURIXTC29x
-STSPC58
BOSCH EDC17
BOSCH MED17 / ME17
SIEMEN SPCR2.1
(Unlocking also possible via pinout)
Full System Via Pin Out (Micro / Flash + EEPROM)of ECUs:
BOSCH
CONTINENTAL
DELCO
DENSO
MARELLI
SIEMENS
TEMIC
TEMIC
BDM EJTAG Modes For:
BDM MPC55x
BDM MPC56x
BDM MC32 / ZC32
BDM HC12 / S12x
JTAG NEXUS MPC / SPC56xx
JTAG NEXUS MPC55xx

JTAG RENESAS:
SH7055
SH7058
SH7059
SH7251
SH72543
SH72544
JTAG NEC76F00xx
76F0038AGD
76F0038GD
76F0039AGD
76F0039GD
76F0040GD
76F0070
76F0070
76F0085
BOOT MODEC16729Fxxx:
BOOT MODE ST K-LINE / RX-TX / CAN
ST10F168
ST10F269
ST10F273
ST10F275
ST10F276
ST10F276
ST10F280
ST10F296

BOOT Mode Tricore for micro:
TC1724
TC1728
TC1738
TC1738
TC1762
TC1766
TC1767
TC1782
TC1791
TC1792
TC1793
TC1793
TC1796
TC1797
BOOT Mode Renesas:
SH7052
SH7054
SH7055
SH7055
SH7058
SH7059
SH7251
SH72543
SH72544
BOOT Mode Mitsubishi:
MH7202
MH7203
MH8102F
MH8105F
MH8106F
MH8202
MH8206F
MH8301F
MH8301F
MH8304F
MH8405F
BOOT BAM System MOTOROLA:
SPC5674
SPC5777
-BOOT MODE Fujitsu
-BOOT MODE Hitachi

ADDITIONAL PACKAGE FOR AUTOMATIC TRANSMISSION
FULL READ AND WRITE TCU(MICRO+EEPROM)
TCU CLONING
TCU CODING FUNCTIONS

Package Includes:

1pc x Master,
1pc x BENCH box
2pcs x OBD wires
1pc x pinout line
4pcs x BOM adapters
3pcs x Transfer cables
4pcs x Power wire
1pc x Set of resistors
4pcs x Adapter plugs
5pcs x Power adapters
---
Nous sommes là pour vous :Email:
ecuhelp.fr@gmail.com
Whatsapp:
+33 745723514
Skype:
ecuhelp.fr@gmail.com